If there is any animal on this planet that could gain super intelligent abilities and sadistic thoughts, which animal would you think would be the CREEPIEST? Yeah, I also thought a planet run by ostriches would be fucking disturbing but apparently these Hollywood Big-Wigs disagree with me. I went out and saw Rise of the Planet of the Apes and the only way I can describe it is: very unsettling.
The movie stars James Franco as a, what I'd like to think, a stoner scientist who decides it would be funny to make a monkey super smart so he can give him relationship advice. Well, that plan goes wrong when the monkeys get TOO SMART. I totally made all of that up, but I feel like it would make for great dramatic Romance called Lies of the Planet of the Apes.
So James Franco drags his lines through this movie like an even more baked version of Matthew McConaughey , giving monkeys all these experimental drugs and then BAM a monkey is just smart out of nowhere in the beginning of the movie and shit and he's all like "CHECK MATE GODDAMNIT GIVE ME A BANANA."
Then they shoot the girl monkey (LOL) and it is revealed that her smart, monkey ass had a secret baby. Enter Caesar.
Caesar is a bacherlor on the prowl and loves snuggly blankets as well as milk and Miles Davis. He also loves John Lithgow. Did I mention John Lithgow is in this film? hahaha, he has alzheimers and I feel like every time he said something, there should have been a studio audience laughing at him like a quirky Seinfeld comment.
Well, time progresses and the baby Caesar starts to grow older and smarter and wears pants and stuff. Huh? Okay. He also likes to set people up on dates and because James Franco brings him to a zoo vet, the monkey totally suggests that he should fuck the doctor. I'm guessing that the writers of this show have seen Wilfred on FX.
Then one day Caesar gets pissed at the neighbor and bites off his finger HAHA. Goodbye Caesar, you're going to monkey jail! Seriously, he went to monkey jail which is like a sanctuary where the big dogs like to play. Don't get me wrong, I really enjoyed this movie but it started to become an off-broadway showing of Dr. Dolittle at times when the monkeys would communicate to each other using sigh language.
Another thing that I noticed was that knowledge to monkeys is like alcohol to us. It makes them really upset and the more they get it, the more they start to resent the world. Hey, I'd resent the world too if I just learned that flinging my shit and humping a bush should be my daily routine and BAM I should just call it a day. For Example:
Fuck, he looks drunk and angry! Well guess what he does now? He rejects James Franco and James Franco is all like 'AWH MONKEY HOW YOU GONNA DO ME LIKE THAT, COME SMOKE WEED WITH ME MAN.'. Hahaha, I swear every expression James Franco gives to the chimp in this movie is a lets-go-get-high-and-play-crash-bandicoot look.
Then he steals the monkey juice and gives it to all the chimps in chimp jail and they all become GENIUSES and what do oppressed genuises want? Revenge! So what's the first order of business? Release Buck! Hahaha, let me back up. Buck is like the Boo Radley of the Ape world, he just sits in a huge cage and rattles back and forth and no one ever talks to him and he never leaves his cage. But he releases the outcast and they all play together blah blah, destroy the humans.
Then Caesar seriously gets powerful and seriously starts being a leader. Haha! Get it! Caesar the Leader! ...Literary types. Anyway, the monkeys get smart and decide "DUDE, hey lets get out of here and split like a banana LOL.
-chimp-out."
Then THIS happens...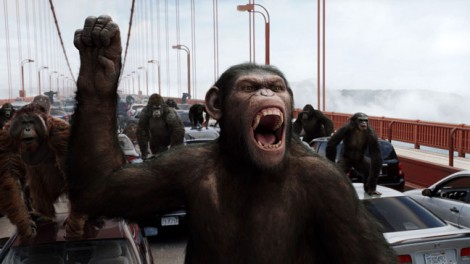 APE WARNING: If you are a man and you watch this scene, you'll probably get overly excited and want to break shit everywhere for no reason. Don't break shit. You'll get in trouble.
The monkeys just start going WILD. They go through offices, through galleries, through the streets, in the trollies, through buildings, on top of the fucking GOLDEN GATE BRIDGE and then they start riding... wait for it... horses. Haha, yes a monkey rode a horse and a gorilla jumped into a helicopter and sacrificed himself like it was fucking Die Hard.
I can't put into words how absolutely hilarious and awesome this entire scene is so I'll just let you see it. It's so freeing, and then Caesar and his monkey entourage make it to the woods and live happily ever after. Go see it. I give it five bananas.