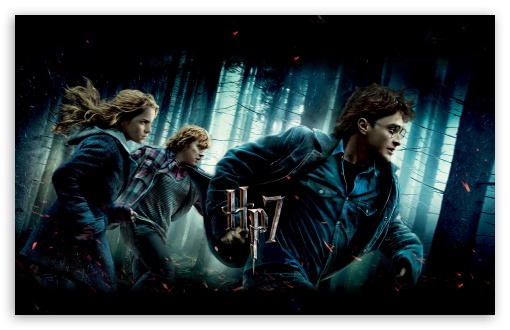 WELL, I officially lost my self respect this weekend. In a 72 hour period, I've managed to defile my own sense of worth and watch every single Harry Potter movie (excluding The Chamber of Secrets because I can't fucking find my brother's copy of that DVD anywhere in the house). Why did I watch all of them, you ask? Because I saw a clip of the newest movie out in theaters on The Daily Show with John Stewart and I thought OKAY NOW THAT LOOKS COOL.
So I put on my sweats, got plenty of fattening snacks and dove head first into a sedentary pool of hygienic neglect and self-loathing. Hahaha, seriously I don't know why I kept watching them and why I was so into it. It's all gibberish to me, sprinkled with a British accent which makes it sound like even more gibberish.
Ugh, I just wish the movies weren't so fucking LONG. It's like watching Avatar seven times in a row. I get it, the books were long and I'm sure the writers/directors had to include so many specific scenes so that the book nerds who actually read them before the movies came out won't have an uproar and trash Hollywood with their wands and brooms. Is there a Cliff Notes version of the movies? Because honestly I'd rather watch a 90 minute, summed up version of all the movies than sit through another ONE HUNDRED AND EIGHTY MINUTE film. C'mon guys.
Also, what the hell is with this Voldemort character? Haha, he's a chromosome away from being that burn victim who is in all of those Public Service Announcements for drunk driving.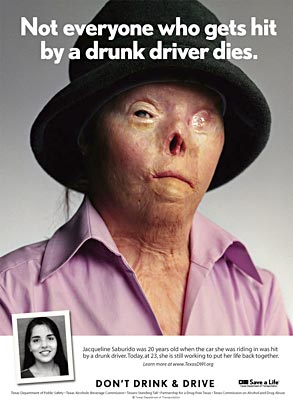 Is that why you're always so pissed off, Lord Voldermort! Were you hit by a drunk driver! Is that why you killed Harry Potter's parents and now have a life long grudge for Harry Potter himself? Did his parents drink and drive, then hit you with their wizard car!? Hahaha, since when did NOT having a nose become the essence of eternal evil? Well, that would be a lot more interesting than this abra kadabra stuff.
LOL but seriously, this stuff is pretty intoxicating and addictive. Sometimes when I drop something I just imagine picking up a stick and saying HOPACA SHALAMADAMA! Then the thing I dropped would magically prop back up into my hand. Ugh, I'M BECOMING ONE OF THEM.
I just kind of wish the witches in these movies were a little more stereotypical like the witches in that old Disney movie Hocus Pocus.
Welp, fell free to have a little Harry Potter themed orgy in the comment section.